December 15, 2022
Before you activate your watch
Make sure that you have the latest software on your iPhone and your Apple Watch

iPhone must be on iOS 15.4, Bundle 50.1
Supported Apple Watches include Series 3 and newer

Validate that the Apple Watch is capable of cellular activation. There are two versions of Apple Watch: GPS and GPS + Cellular. Only the cellular capable watch has a red ring on the Digital Crown, also known as the dial, of the watch.
Make sure that you have a supported plan (includes Unlimited and Unlimited+ Data Plans).
Activate both your Apple ID/iTunes account and MyGCI account prior to attempting activation. Both the Apple ID and iTunes account on the iPhone must be set up. You will need these account credentials during the activation process.
Activating your Apple Watch GPS + Cellular
On your iPhone, open the Apple Watch app.
Click the My Watch tab, then click Cellular.

You may need to power cycle your iPhone to be able to select Cellular

Click Set Up Cellular.



Enter your MyGCI login credentials.



Confirm that this is the phone number with which you want to pair your Apple Watch.



Read and agree to the Terms and Conditions before selecting to add the watch to your plan.



Enter/verify the service address to use for this device.



Enter a nickname for your Apple Watch to help you identify the watch in your MyGCI account. This is called an Alias. Please note that using the _ (underscore) is not allowed.



Review and verify your order.



Congrats! Your Apple Watch has been activated. You may now click Exit.



Your Apple Watch GPS + Cellular is set up. Click Continue to view cellular settings for your watch.

Potential Errors in Activation
Mobile plan not supported
Apple Watch is not available with your current mobile plan. Visit our Apple Watch GPS + Cellular FAQ page to learn about supported mobile plans.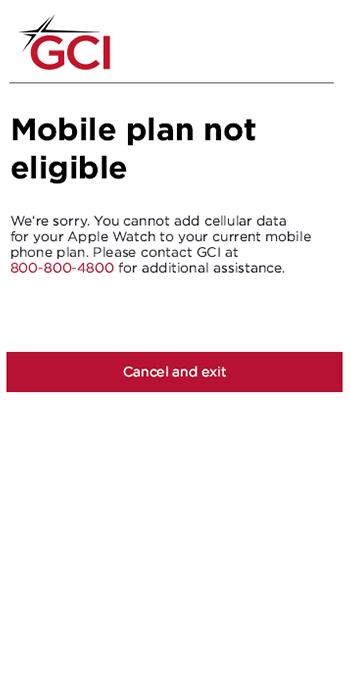 Number not found on MyGCI
The phone number you tried to pair with the Apple Watch is not connected to the MyGCI profile entered. Contact Customer Service for assistance if this is a number that should be on your account.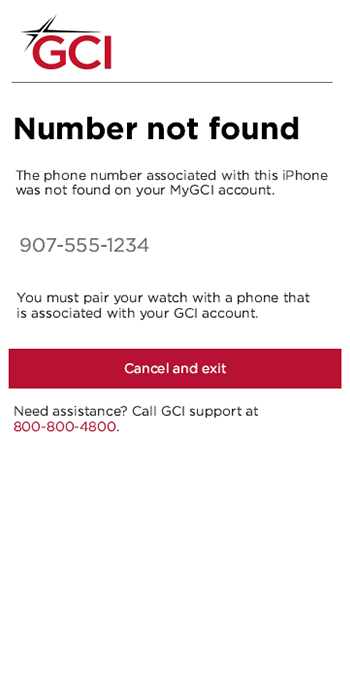 Too many watches
A device can only be paired with up to three watches at a time. To add another watch, you must first select one to remove or choose a different phone number on your plan to pair it with.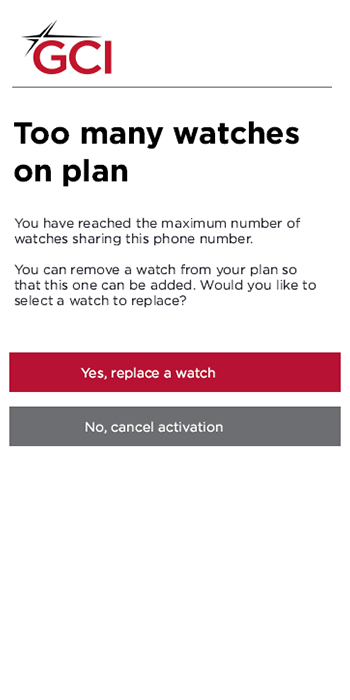 Watch already activated
The previous GCI owner of this device still has the watch activated on their account. Contact the previous owner of the watch to have them resolve this issue with Customer Service.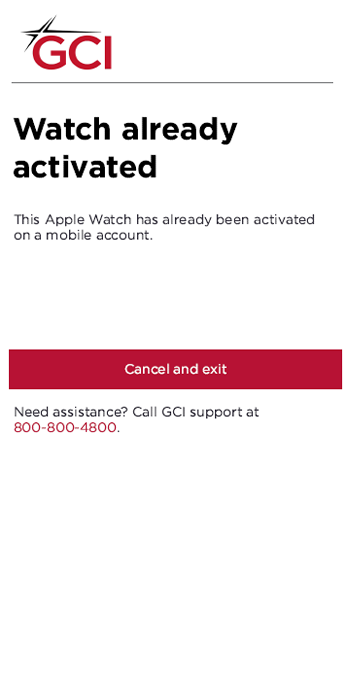 .