December 28, 2022
MyGCI lets you view and pay your bill, check your usage, manage your account, and more.
Don't have a login yet? Follow these steps to sign up and your accounts and services will automatically be associated with your new MyGCI profile.
1. The Login Screen
Navigate to https://login.gci.com/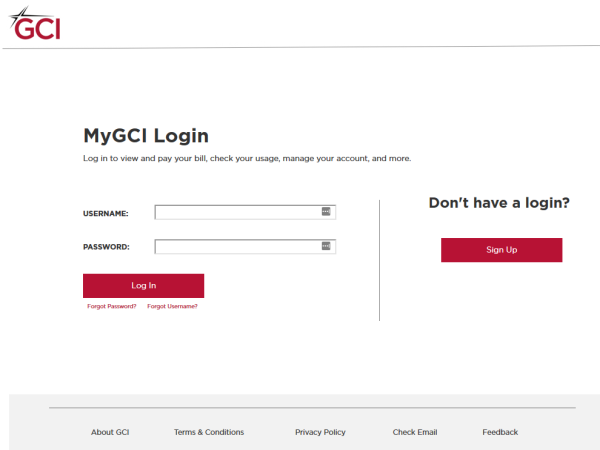 Under Don't have a login?, click Sign Up to view the Signup screen.
2. Enter your email address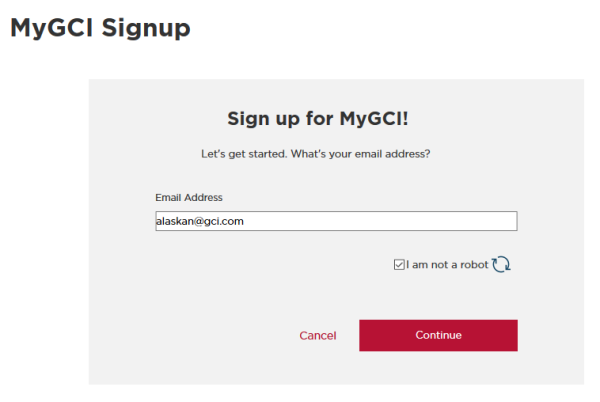 Enter your email address, then select the checkbox labeled I'm not a robot. Click Continue to view the account information screen.
3. Enter your Account Information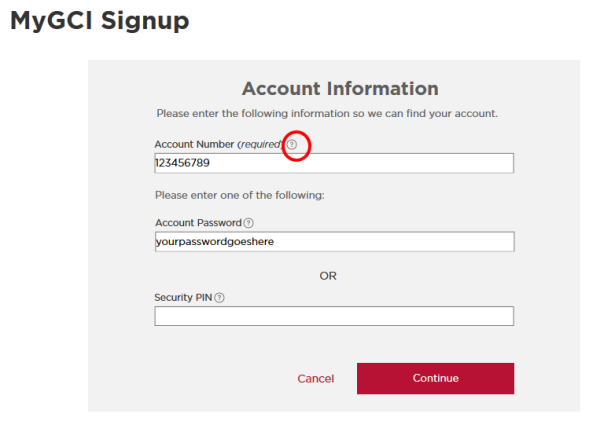 Enter the Account Number for your GCI services, as noted on your monthly invoice.
Note: If you're not sure where to find your account number, click the ? icon and a popup will show where the number is located on your invoice.
Enter either your account password or Security PIN. Only one of these is needed.
Your Security PIN -- sometimes called a CPNI PIN -- is a 5-digit number or 5-character alphanumeric code you created when you set up your account. It's the one you tell the GCI customer service representative on the phone when you call us for service or support questions.
You may also have set up an account password, which can be any length. If you cannot remember either of these, please give us a call at 1-800-800-4800 and we'll help get you set up.
Click Continue to create your new login.
4. Create a Login
Now it's time to set up the username and password that you will use to log in to MyGCI.
Your MyGCI profile password can be different than the account password you entered on the previous screen. The password you use for MyGCI will not affect your account password. Changing one does not change the other.
It must be at least 6 characters long, contain at least one letter and one number, and contain at least one special character (!@#$%)
Add your first and last name.
Click Create to confirm and submit your MyGCI profile information.
5. Check your email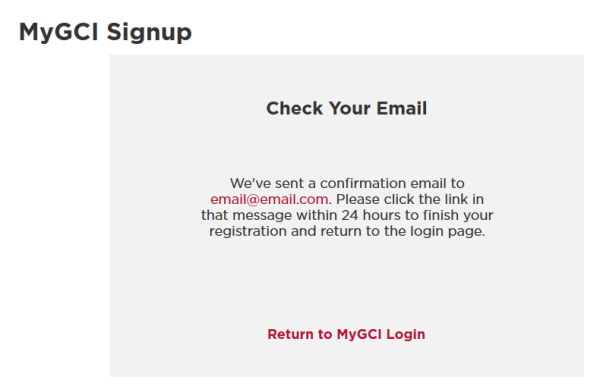 A confirmation email will be sent to the address you entered when you started the signup process. Check your email and click the link in that email within 24 hours to complete your MyGCI registration.
If you don't receive the confirmation email within 24 hours, return to my.gci.com and click the link that says "resend activation email" to send a new email with a new confirmation link.