December 2, 2021
Setting Up Your EVO PRO
1. Package contents
EVO PRO device
EVO PRO Quick Guide
Remote with batteries
HDMI cable
Power Cord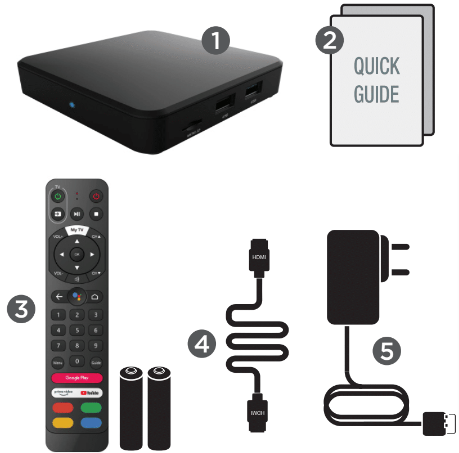 2. Use the HDMI Cable to connect the EVO PRO device to your TV
3. Using the power cord, plug in the EVO PRO
4. Follow the on-screen instructions using your remote to navigate through the setup process. You'll need:
A Yukon TV account
GCI Home Internet and WiFi credentials


Streaming on Yukon TV does not count against your GCI home internet usage.

A Google account to complete the EVO PRO setup

You are able to register for a Google account on the EVO PRO when getting started.

To be registered on MyGCI
5. Download the Yukon TV app by pressing the My TV button on your remote.
6. Sign into your Yukon TV account using your MyGCI credentials.
7. Reboot the EVO PRO device.
Navigate to Device Settings > Device Preferences > Reboot.
This step will ensure that the Yukon TV app will automatically open when the EVO PRO is turned on
8. Start watching your favorite shows on Yukon TV!
Remember to add the Yukon TV app to the app row by selecting the + icon on the Android TV home page.
Using Yukon TV on EVO PRO
EVO PRO Remote Guide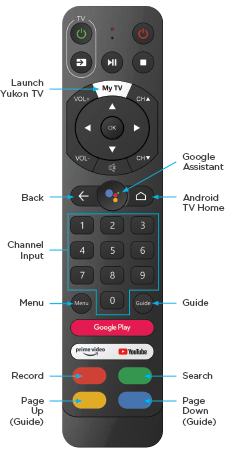 How to...
Open the Yukon TV app:
Press the My TV button on your remote
Set a recording:
Press the Guide button on your remote
Select show
Press the Record button and follow the on-screen prompts
Access Video on Demand:
Press the Menu button on your remote
Select "VOD"
Make a direct channel change:
Use the 0-9 buttons on your remote while in LiveTV or Guide to tune directly to a channel. All your favorite channels are available on Yukon TV, in 100% HD format. View channel lineups on the guide or view the lineup on GCI.com.
Download Quick Start Guide PDF→
View Yukon TV User Manual PDF→

View additional Yukon TV support articles →