September 19, 2016
Sling TV
Do you wish that GCI would carry more of your favorite channels? Do you feel like you are always waiting for the latest episode of your favorite show to update on Netflix or VOD? We are ready to introduce a new way of watching TV- with Sling TV.
What is Sling TV?
Sling TV allows you to stream LIVE TV on your computer, game console, wireless device, or Apple TV! Easily connect with popular networks like AMC, BBC, IFC, Lifetime, and BET. Sling TV also provides access to many Video on Demand selections that will make sure you stay up to date on the latest episodes. No more waiting or restricted devices- you are in control!
See all the available programming here: https://www.sling.com/programming
How do I activate my Sling TV?
Current internet customers can sign up for their 30 day free trial of Orange Sling at
https://www.gci.com/offers/slingtv
You will need to login or register to your MyGCI to begin your activation with Sling TV.
New internet customers will be able to complete MyGCI registration 24 hours after activating their cable modem.
Please Note: Activation is only available on a device with a web browser. Activation is unavailable via the Sling App on your device.
Activating your free trial
From any web browser, follow the provided link from gci.com. Sign in or register to MyGCI to begin Sling TV activation.
1) From any web browser, follow the provided link from gci.com. Sign in or register to MyGCI.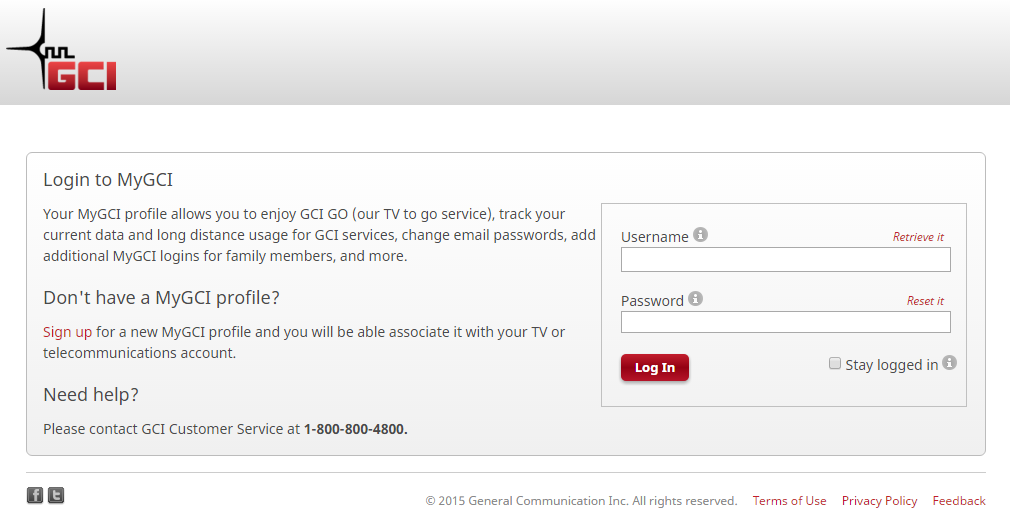 2) Once MyGCI is verified, you will see the Sling TV sign up screen. Enter your email and create a password.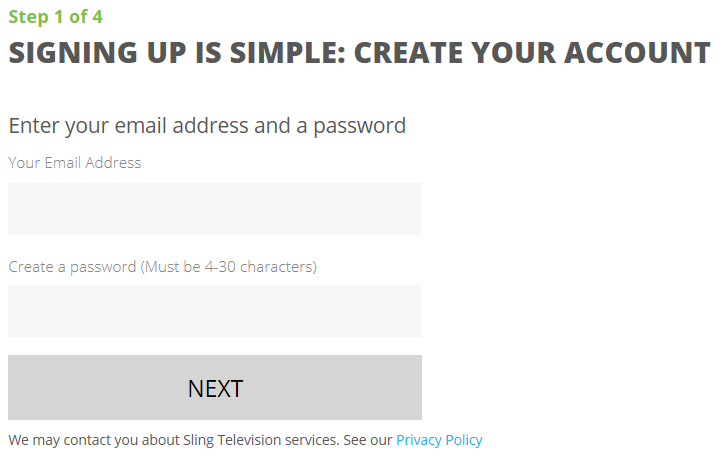 3) Choose your package. You can see that Sling Orange is already selected and you may add extras for additional cost if you choose to do so.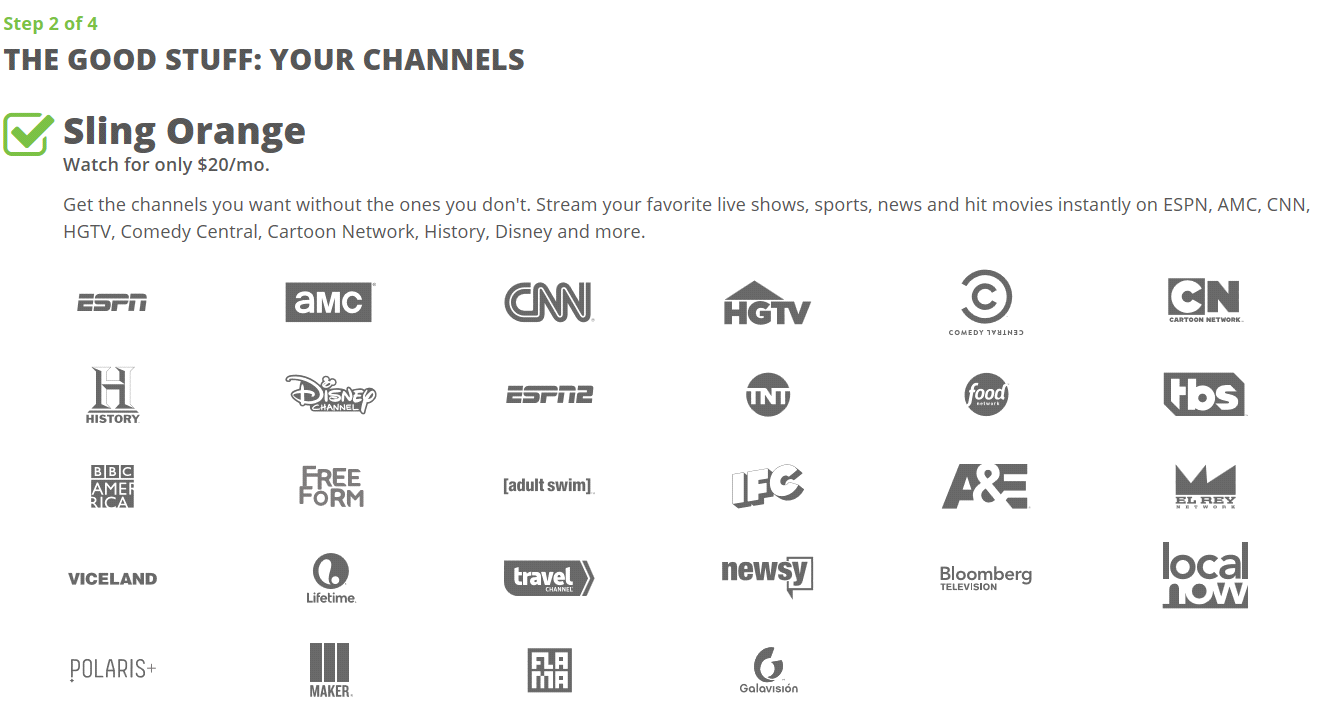 4) Click the blue ADD button to add additional services. You will be billed for any channel add-ons you select.

5) Click CONTINUE

6) Enter your billing information and review your selections
7) Check the disclaimer and then the gray FINISH AND SUBMIT button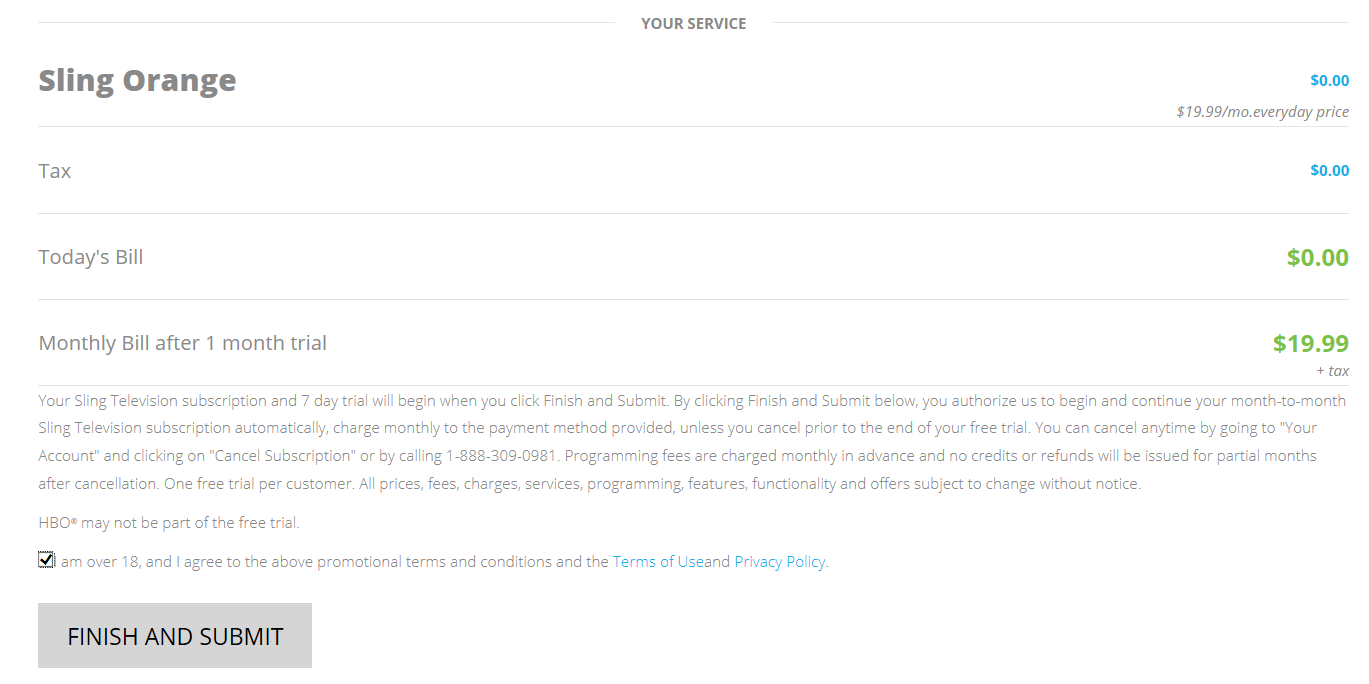 8) Next, download the App on your selected device! Sling TV activation is complete!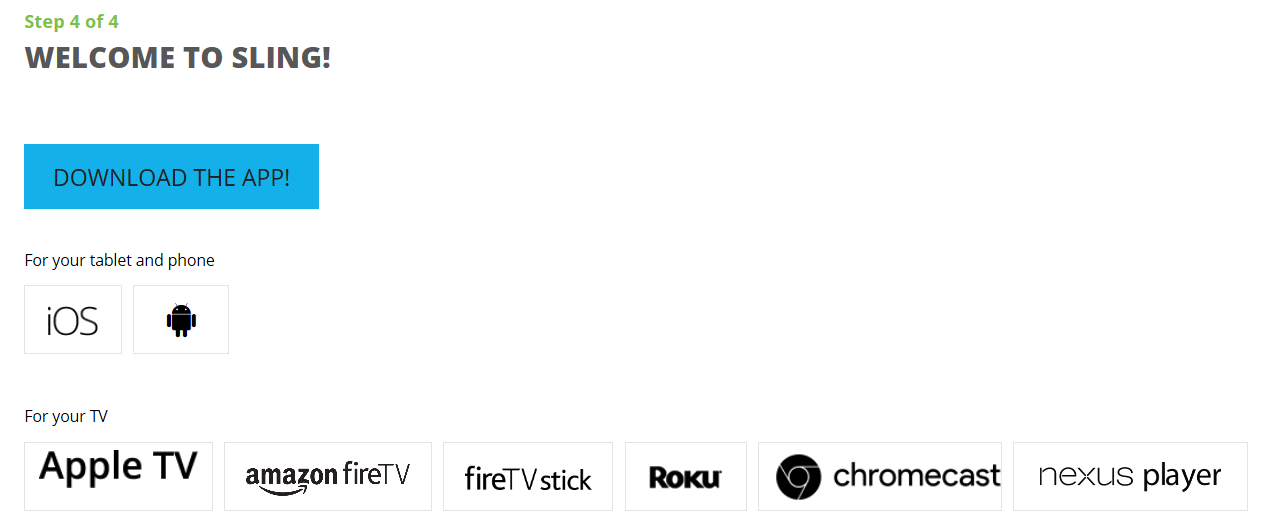 What is the difference between Sling Orange and Sling Blue?
Each plan offers a different selection of programming based on your interests. You can also fully customize your TV experience with Add-Ons. Authorize one streaming session at a time with Sling Orange, or up to three with Sling Blue!
See all the details of each package here: https://www.sling.com/service
What devices can I watch Sling TV on?
A full list of compatible devices for Sling TV are found here: https://www.sling.com/devices
How do I watch Sling TV?
After activating Sling TV, you will need to first download the app for your device.
Follow the link below for app installation on your Apple TV:
Want to use a different device? Find and choose your device from the below link for your app download instructions: Sling TV Devices Help Center Help Center> Watching Sling TV> About your Device
Won't Sling TV use a lot of data?
Similar to Netflix and Hulu, Sling TV will use data. Ensure your internet and your wireless data plans cover your Sling TV needs. You can self-manage your GCI data with MyGCI.
Log into MyGCI https://www.gci.com/mygci.
How do I decrease the amount of data Sling TV uses?
Select your streaming quality preference from your devices' Sling App: Menu> Settings> Connection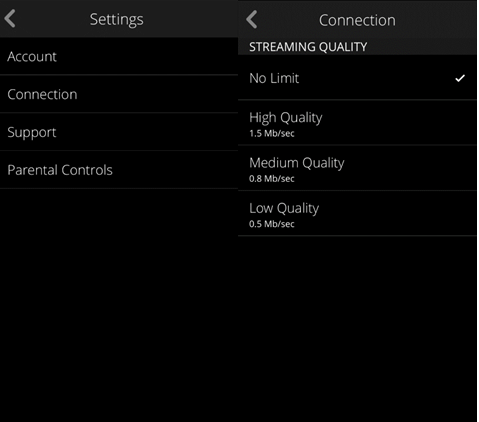 Can I watch Sling TV on multiple devices at the same time?
The number of devices on which Sling content can be watched at the same time varies based on the Sling service.
With Sling Orange you can enjoy one stream at a time. Any extras you add to your Sling Orange service will be included in your single stream.
With Sling Blue you can enjoy up to three streams of these channels at one time! This means you can enjoy FOX on your big screen, while your computer streams AMC, and catch up on the news with CNN on your mobile device. Any extras you add to your Sling Blue service will be included in your three streams.
HBO® is available as an extra for both Sling Orange and Sling Blue. Regardless of whether you choose Sling Orange or Sling Blue, you will be able to watch HBO® content on up to three devices simultaneously.
How do I use parental controls on Sling TV?
Controlling what is watched on Sling is simple. Create a personal PIN to set your allowed content.
From your devices' Sling App: Menu> Settings> Parental Controls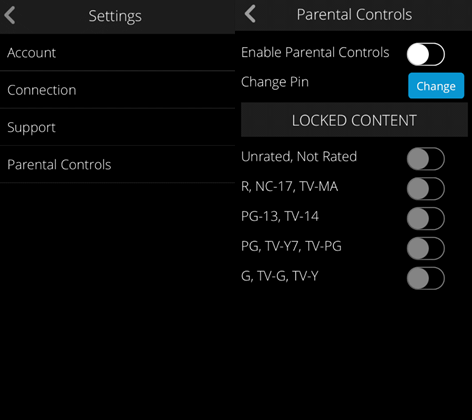 How do I deactivate my Sling TV?
Ending your membership is completed in three easy steps: Cancel Sling
Need help troubleshooting?
Sling TV is here to help- Find the answers to all of your questions here: Sling TV Help Center
What are the details of the offer?
Free trial
Available to new customers upon account activation. One per customer. Must provide email address and credit card. Trial will end after 30 days of registration or upon cancellation if subscription is cancelled prior to this date.
Billing
After free trial your credit card will be charged monthly for applicable subscription until you cancel your service.
Cancellation
Cancel on Sling.com or by calling 1 (877) 811-4788. Programming fees are charged monthly in advance and no credits or refunds will be issued for partial or prepaid months after cancellation.
Streaming limitations
The number of devices that may be allowed to watch simultaneously will depend on the Service you select. Certain channels are limited to watching on one device at a time (single stream), while others allow for up to three devices watching simultaneously (multi-stream). For more information about the number of streams available in the Services you select please visit Streaming Limitations in our FAQs. Channel availability may vary based upon geographic location. For more information please visit What's Available Where I Live.
Miscellaneous
Certain programs may be unavailable due to programmer restrictions or blackouts. Only available within the United States. State and local taxes apply. All prices, fees, charges, services, programming, features, functionality and offers subject to change without notice.