April 29, 2019
GCI Voicemail
To set up your GCI Voicemail:
Open your preferred browser and navigate to the GCI Voicemail web portal.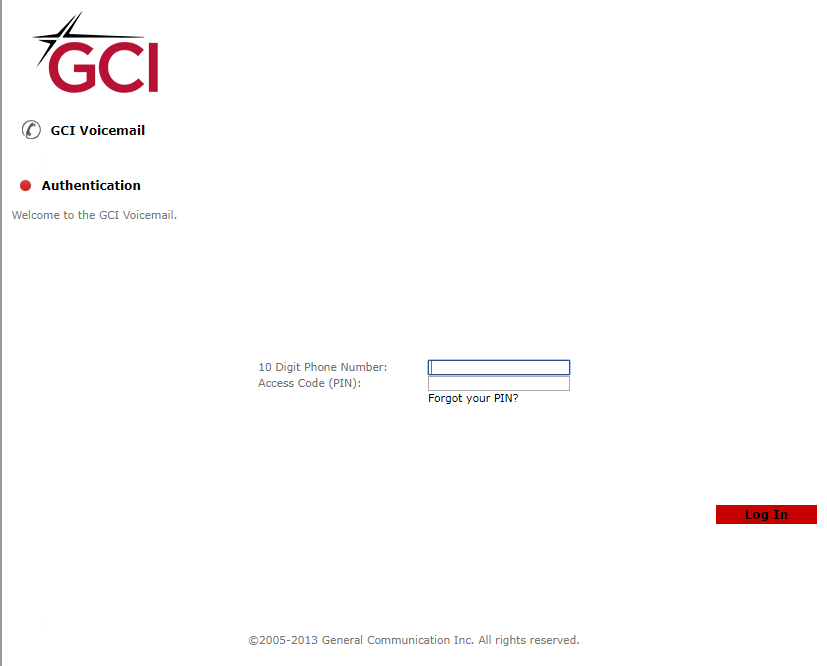 Enter your 10-digit phone number.
Enter your Access Code (PIN). Note: The first time you access your voicemail box, you will use a temporary password, which is the last five digits of your phone number. The web access code and phone access code are the same.
Press "Enter" on your keyboard or click the "Log In" button.
After logging in, you will see features for a basic voicemail box. Note: Available features will depend on the type of voicemail box you have. Feature options include:

Inbox
New Message: View, download and transfer your new messages.
Saved Messages. Manage saved messages.
Settings

Message Order: Sort New and Saved messages in chronological or reverse chronological order.
Greetings: Upload a customized greeting for your voicemail.
PIN: Enable, disable or update your access code (PIN).
Message Waiting Indicator: Enable or disable an indicator for new messages.
E-mail Notifications: Choose to receive email notifications when new messages are received.
Call Notifications: Enable, disable or manage new message notifications.
Record Options: Configure your mailbox to record messages.
File Format: Choose file format for stored messages.
Message Envelope: Enable, disable or manage your mailbox to play date, time and caller information.
Message Autoplay: Enable or disable your mailbox from automatically playing new messages when calling voicemail.

Upload and Forward
To Email: Upload an audio file and forward it to an email address or email contact list.
To Phone Number: Upload an audio file and forward it to a phone number.