Connect more. Spend less.
Thank you for choosing GCI as your mobile service provider. We are proud to announce our new Simply Share plans that provide shared data and unlimited talk and text. You can power up to 10 mobile devices on one plan.
You can save money with GCI Simply Share plans. We've run the numbers and depending on the plan you choose, you can save at least $10 per month – that's over $100 per year!
Here is an example of how Simply Share plans can save you money:
Simply Share Plan = $149.97
with 2 smartphones
Current Smartphone Plan = $204.96
with 2 smartphones

6GB data plan – shared
Nationwide Unlimited Talk & Text – on each phone

3,000MB data plan – on each phone
Family Messaging
Nationwide Unlimited – on each phone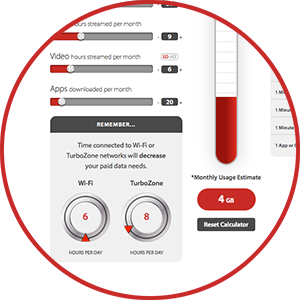 It's simple.
Use our handy usage estimator to help decide which plan is right for you. Sign up today – it's as simple as 1, 2, 3:
Data – choose the right data plan for your family
Talk & Text Plan – add one per phone
Devices – add data plans for other data devices, like tablets
 Get started.
To get all the details and to find out how Simply share plans can work for you and your family, ask us today!