Q: What is Wireless Emergency Alerts (WEA)?
A: Wireless Emergency Alerts (WEA): WEA is a new public safety system, which allows wireless customers to receive alert notifications in  geographically-targeted areas.  WEA was established pursuant to the Warning Alert and Response Network (WARN) Act.
Other names used are Commercial Mobile Alert System (CMAS) or Personalized Localized Alerting Network PLAN (PLAN).
GCI smartphone subscribers wishing to receive CMAS alerts must download the app. This is available for Android smartphones and coming soon to iTunes for iPhone users. Alerts from apps will be GEO LOCACTION meaning they will receive alerts specific to the location where they are currently located. WEA is a free service.
Q: What types of alerts will I receive?
A: There are three main types of alerts.
Alerts issued by the President of the United States
Alerts involving imminent threats to safety or life
AMBER Alerts
Q: What phones does it support?
A: Currently support is provided to Andriod devices only:
Androids with Data (OS 2.2 and higher)
A: iPhones do not currently work with WEA. If you wish to recieve AMBER ALERTS, you will need  to get an AMBER Alert app from the APP store.
Q: Can I opt out of receiving these alerts?
A: Yes. You can opt out for imminent and AMBER Alerts, but NOT alerts issued by the President. Once you are in the app, click on the Menu Options to select Preferences. You can then select the alerts you wish to recieve, or deselect the alerts you do not wish to receive.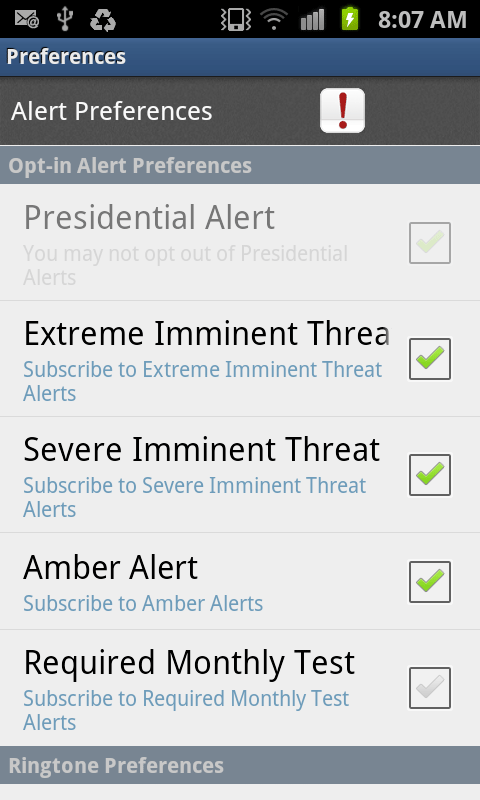 Q: How will I know if I am receiving Wireless Emergency Alerts?
A: Your phone will buzz and ring with a special FEMA (Federal Emergency Management Agency) alert tone by default. However, if you have silenced your phone, no audible alert will sound. In addition, a notification appears in the notifications bar on Android as well as a visual alert pops up on top of the active screen. You may change the ringtone for any of the alerts, except a Presidential Alert. From the Preferences menu, continue scrolling down, until you see the Ringtone Preferences. Select an alert to change the ringtone.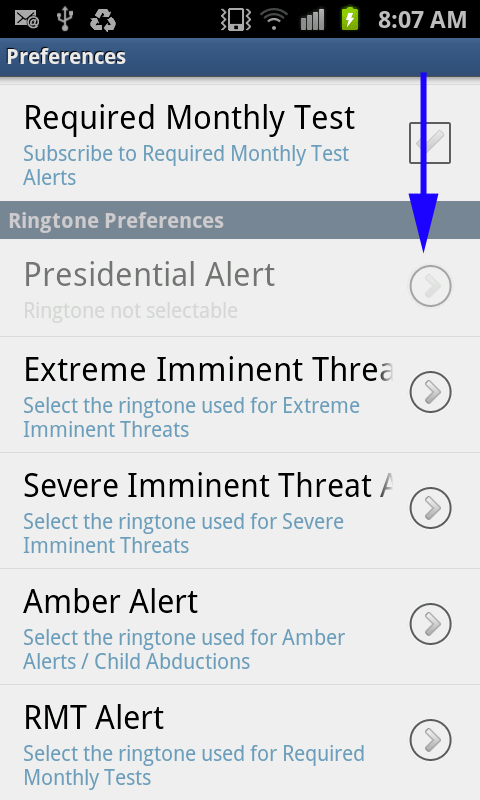 Then select the ringtone for that specific alert. Ringtones available will depend on your phone.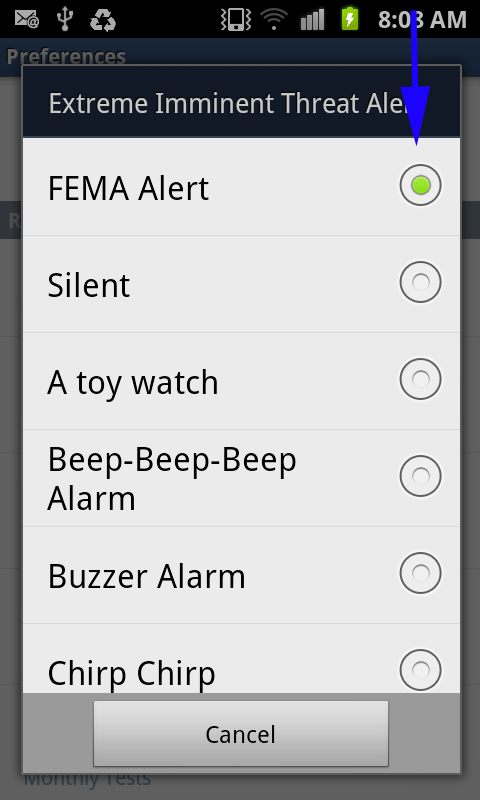 Q: Can I receive alerts on a prepaid phone?
A: Yes as long as you have a smartphone with Data service.
Q: Can I receive alerts while I am roaming?
A: Yes. You can receive the alerts as long as you have the app and data service on your phone. The app must have your permission to find out where your are (Location Services). The alerts you receive will be pertinent to the area you are currently "in" and not your home area for the mobile app.
Q: Will my voice call be disconnected or my data connection be interrupted if there is an alert?
A: No. You can receive the alert without dicsonnecting any of your phone calls or data sessions.
Sample Alerts