Majority of Alaskan businesses choose GCI as their Internet service partner.  We know it's because we provide the fastest, most reliable Internet service in the state. Here's what GCI Internet can do for you:
Deliver speeds faster than anyone else in Alaska
Cover your Internet usage needs with up to 1 Terabyte (1,024 GB) of data.
Provide high quality service at a competitive price
Word on the street is that our Internet service comes with outrageous overage charges, strict data caps and complicated hidden fees.  We'd like to set the record straight.
Shop. Compare. Chose GCI.
GCI's entry level Internet plan provides your business with speeds of 10Mbps/1Mbps for only $39.99 per month.  That's 20 times faster for $20 less than our competitors.  Other plans are available with even faster speeds and plenty of usage. View GCI's business plans here.
Data Usage.
Only a small fraction of business Internet users actually exceed their usage allowance.  Typical office Internet activity, including emails, document sharing and web access can be easily managed by accessing GCI's online Usage Viewer tool. Learn more about this helpful resource here.
A Popular Choice.
Many businesses enjoy the benefits of GCI's Business Classic Internet. Our most popular plan provides 22 Mbps/ 2Mbps speed and a hefty 250,000 MB (250 GB) of included data usage. Here's what you can do with all that usage:
Host a 5-day video conference
Upload a quarter of a million 1MB photos to your social media site
Send over 850,000 emails with a typical MS Office attachment
Run your business on the best network in Alaska
What Does "Unlimited" Really Mean?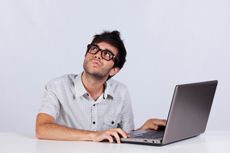 Other Internet providers slow down your connection or disconnect your service if you exceed a certain amount of "unlimited" usage.  This fact is often left out of marketing messages and is buried in the fine print in the terms and conditions. Some providers even fail to specify how much data usage will trigger this action; instead they provide vague terms like "in excess of expected ranges".
Faster Is Smarter.
The notion that GCI's high speed network will cause you to exceed your usage is simply not true.  With GCI's Internet you'll be able to increase productivity and respond quickly to customers' needs. Our network is fast…blazingly fast, allowing you to do more on the Internet. Think of it like your morning commute into work; the distance does not change just because you now drive a fast car…you just now have the ability to get there much quicker.
Managing Usage Is Easy.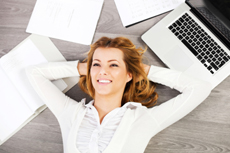 Keeping tabs on your business Internet usage is simple with GCI's online Usage Viewer.  You can see your current usage compared to your plan's usage allowance as well as your historical usage.
GCI's generous usage allowances are designed to provide your businesses with plenty of bandwidth to accommodate day-to-day operations.
GCI Internet Is Secure.
One myth is that GCI's cable modem service is somehow less secure than DSL.  This is not true; GCI uses DOCSIS (Data Over Cable Service Interface Specification) compliant equipment and encrypts our customer's data as it flows through the network.  24 hour Network Monitoring takes security of your data even further.
Getting What You Pay For.
The quality of GCI's Internet is not restricted by the distance between your business location and our network nodes.  That is the benefit of our DOCSIS compliant network versus old fashioned DSL, which is dependent on the distance from a DSL network node.
GCI's network design allows for more bandwidth for all of our customers, not just those within a short distance from a central office.  We stand behind what we offer and deliver the best connections and service in Alaska.