Our core value is safety.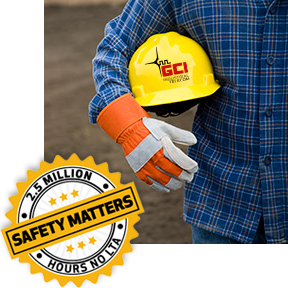 And we know there's safety in numbers.
With 2 million man hours in some of the most extreme conditions on earth without a lost time accident (LTA), we think those numbers are pretty solid. GCI Industrial Telecom employs only the most qualified engineers, project managers and support staff who take a vow to uphold our focus on safety, while still meeting your project goals and deadlines.
Speaking of safety, GCI's Network Operations Control Centers (NOCC) work around the clock, 24/7, to make sure your network is always connected. We monitor everything in real-time – from your network to equipment and facilities – and respond immediately to any disruptions in service. Our Network Operations Control Centers are located in Anchorage, Alaska and Houston, Texas and together, they provide continuous coverage with a full suite of IP security design, testing and monitoring services. GCI Industrial Telecom acts as your eyes and ears, even when yours aren't available.
GCI Industrial Telecom is a Member Contractor of ISNetworld, the global resource for connecting corporations with safe, reliable contractors/suppliers from capital-intensive industries.
Put Industrial Telecom to the test.
Email or Call Us: (877) 411-1484