Overview
Many of GCI's web pages (both MyGCI and GCI's main site) are location based pages. The MyGCI page location determines weather, local news, review, and event content displayed. The GCI's main page location determines which GCI's product information is displayed.
The initial setting to determine which location is displayed is based on the IP address your computer is receiving. Most of the time this should correctly correspond with your physical area, however, sometimes these Internet address do not get properly updated across the network. Thus not setting your display to your location.
If that occurs you can manually select your location, and make it your default location, so when you open your browser the correct location should be displayed. You can also change the location, to view information about different areas.
The steps to make the change are below. Unfortunately at this time, if you need to change the location, you must change it on both of GCI pages, MyGCI and Main page. Currently these two pages do not pass the information between them, so you may need to change both pages.
Customize MyGCI news, and weather based on a geographical location
1. Go to GCI's MyGCI home page.
You can either enter http://my.gci.com into the browser's URL or
Click on MyGCI from a GCI page.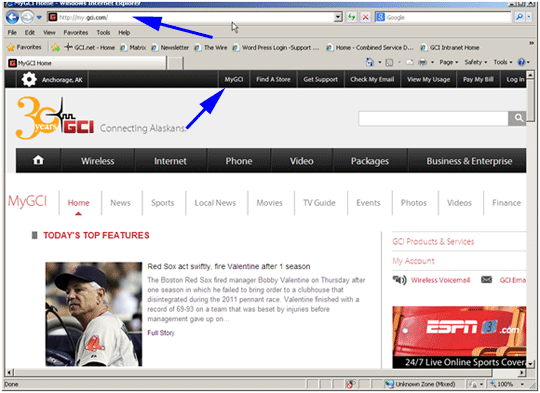 2. Click on the Settings icon, next to the current location.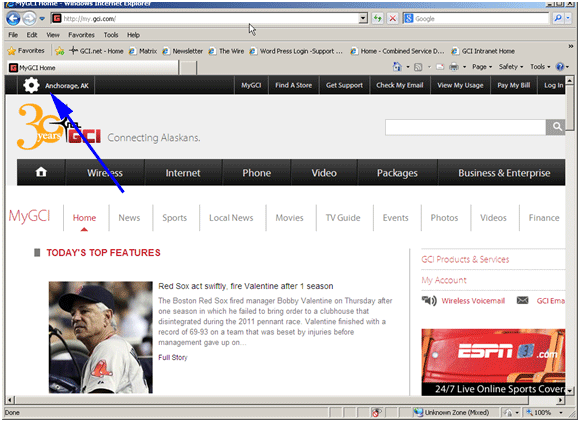 3. That displays the option to edit the location.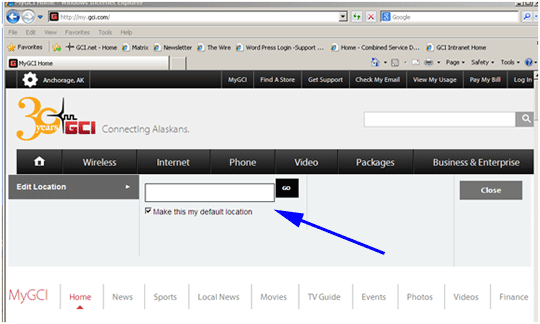 4. Enter the City Name, State or Zip Code of the location you would like to see. If you want to make this the default location, please check the box next to  "Make this my default location".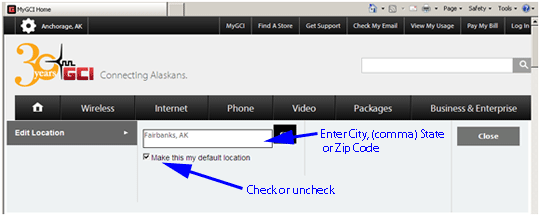 5. Press the Go button.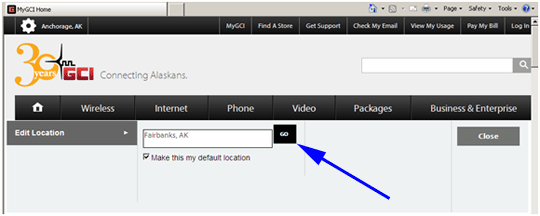 6.  Your browser will update and display the new location.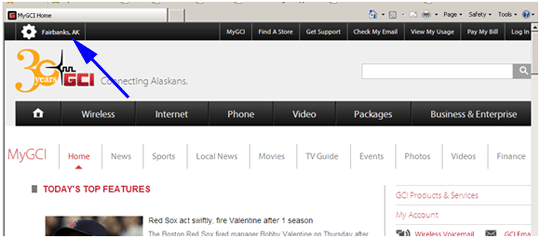 7. Scrolling down the Home page will provide the weather for the location you just selected.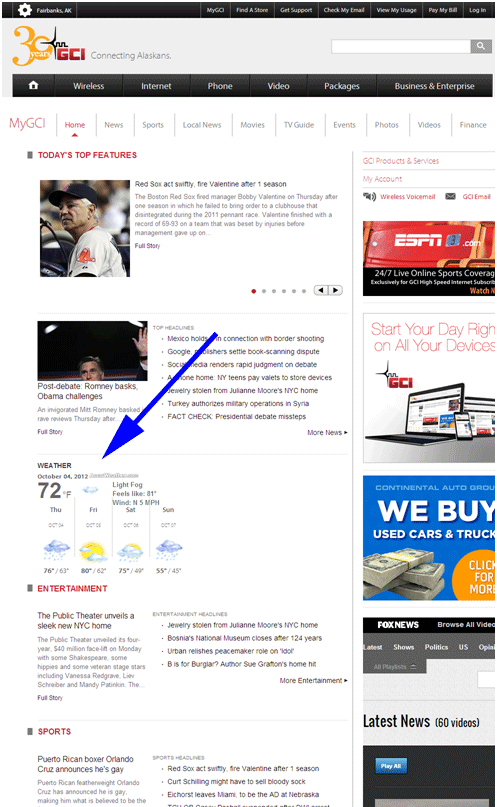 8. Clicking on the Local News will display local news options.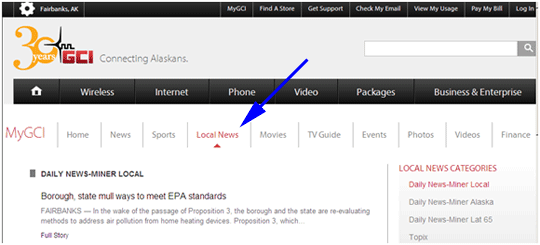 9. Then by clicking on the different local news categories provides stories from that source.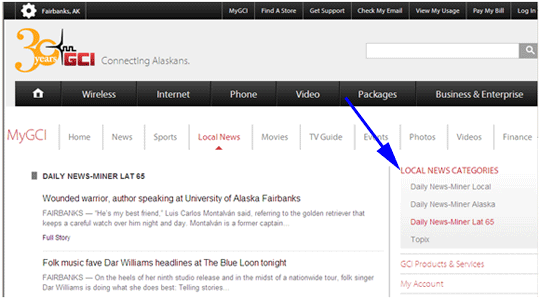 10. If you want to view a different location, click the settings icon (step 6) and enter the location.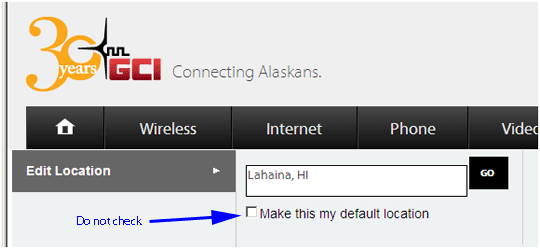 11. If that location is available, you will be taken there. After viewing that page you can either select the back button, or close and reopen your browser to view your default MyGCI page.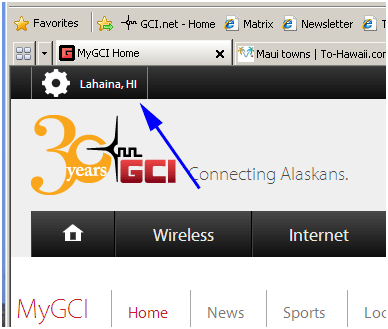 12. If that location is not available you will see a message, informing you that location is not available. The actual display of the message, may change depending on your choice of browser.

13. You can change your location, whenever you chose.
Customize viewing GCI's products and services to your area
GCI's main page is focused on Alaska, so you can only set this page location to an Alaskan location.
1. Go to http://www.gci.com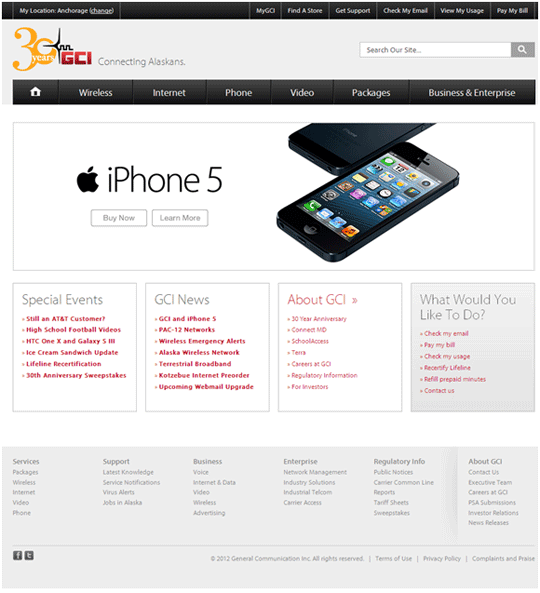 2. In the top left corner you will see your current location and the ability to start a change of the location.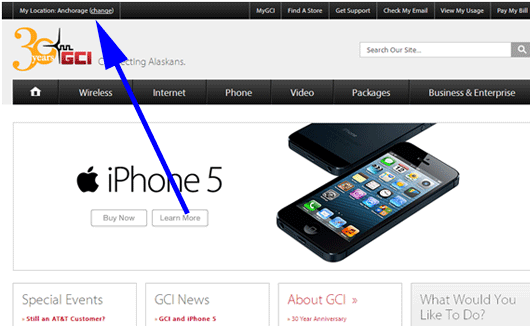 3. Click on the word change.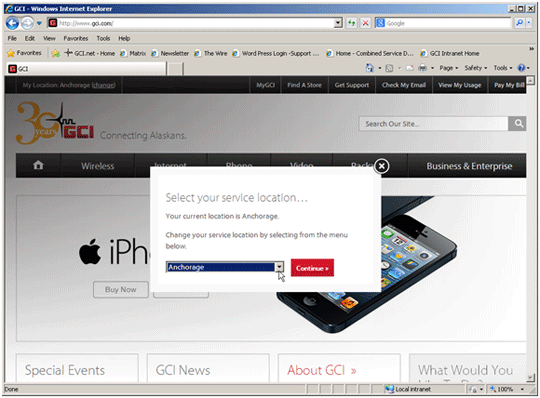 4.  Clicking on the drop-down box presents a list of locations.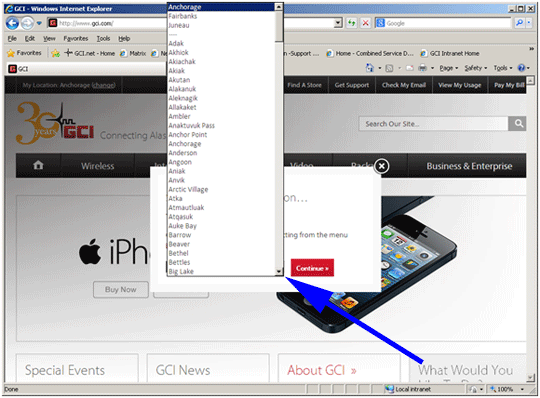 5.  Select your desired location. The drop-down list is in alphabetical order, with Alaska's three major population center located at the top of the list.
6. Press Continue.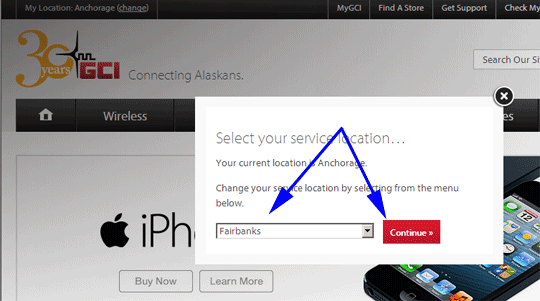 7. Your browser will refresh and display the location you selected.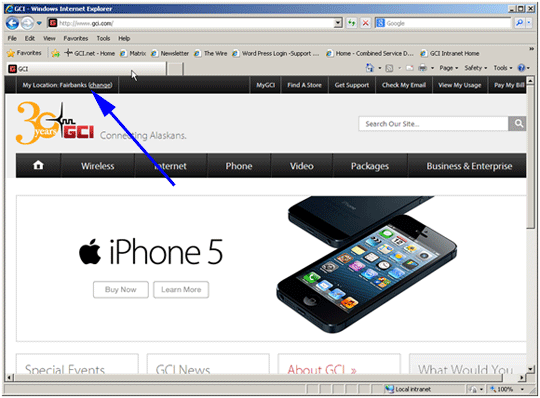 You can change your location at any time.