These instructions are for Windows Operating Systems. If you are using a Macintosh, GCI recommends to use BootCamp,  Parallels or other means to utilize a Windows Operating System.
Before you Begin
This update is for GCI's Samsung Galaxy SII (I9100) only. This software update is also known as Ice Cream Sandwich.
This update will require you to download and install a program on your computer.
Ensure your phone is fully charged prior to starting the upgrade.
Be sure to back up and data prior to starting this update.
Ensure you know your Google Account and Password prior to starting this update.
Attention:
This upgrade is optional, and is not required for your GCI Galaxy SII (I9100) to function
As with any upgrade there is always the risk of losing content. GCI is not responsible for any lost content, when performing the upgrade
Some applications may not be available after performing the upgrade due to changes in the Android OS, this includes Samsung Kies
Steps
Prior to beginning the following steps ensure you have Samsung Kies installed on your computer, but do not have the application running. The SII may look for the drivers available from Samsung Kies.
1. On your computer, click this link;
http://assets.gci.com/downloads/Samsung_I9100_4.0.3_Ice_Cream_Sandwich.zip
2. You will see a screen containg a folder labeled Samsung I9100.4.03.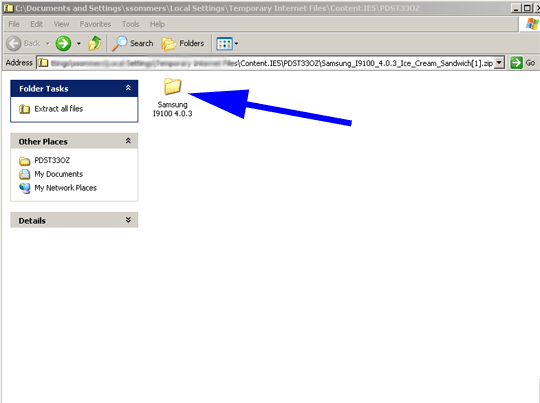 3. Double-click on the Samsung I9100 4.0.3 folder to open the file.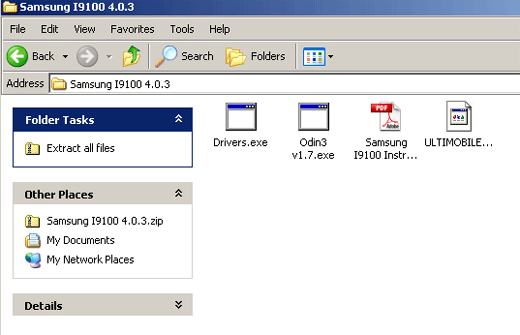 4. Double-click on the Odin3 V 1.7.exe file to start the program. You will update your device using this program.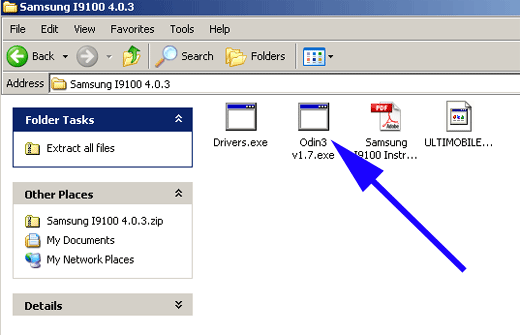 5. You will see a message to extract files, click Extract all.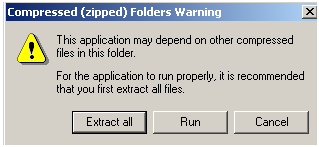 6. You will be asked to select a destination for your extracted files. GCI recommends using the default. However, be sure you know the location, as you need to locate the file to continue.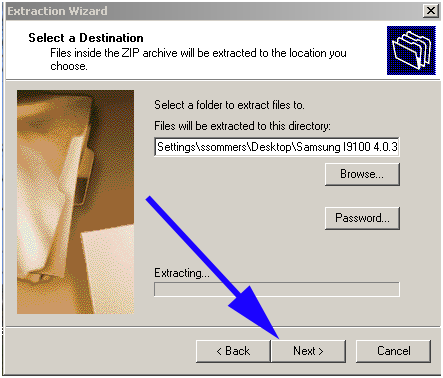 7. Click Next.
8. If you see a message concerning an existing folder, click Yes to All.

9. You will see a completion message for the extraction, click Finish.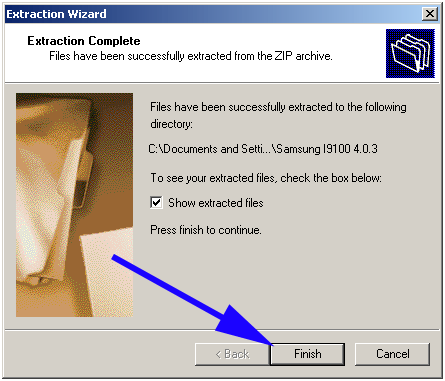 10. Connect your phone to the computer using your USB cable. Your device should be turned on.
11. In the folder of extracted files, click on the Odin3 v1.7.exe file.

12. If you see a Security Warning, click Run.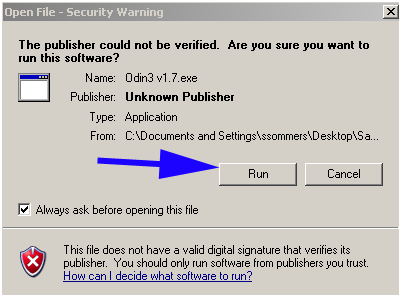 13. That will display the Odin application.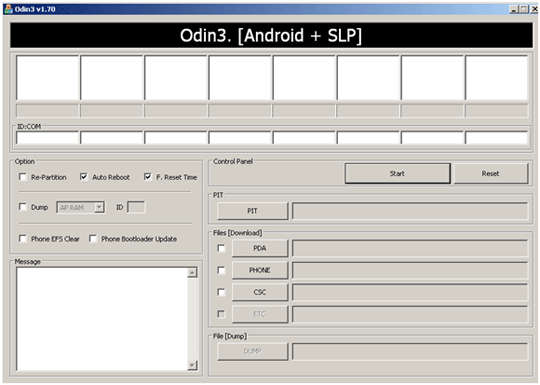 14. After the application has loaded, turn off your phone. Wait for the phone to vibrate, indicating it is turned off.
15. Turn your device on by selecting the HOME+VOLUME DOWN+POWER buttons.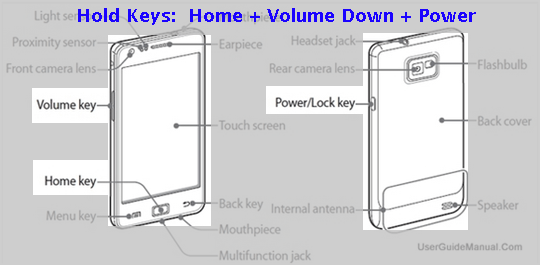 16. Hold this key combination until you see the Warning Screen. See example below on the left side.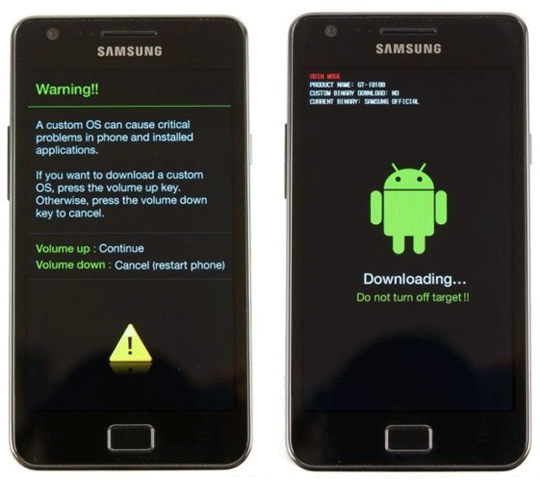 17. Press the Volume Up key to continue.
18. You will see a message stating "Downloading… Do not turn off the target"; see example above, right side. DO NOT TURN OFF YOUR DEVICE.
19. The ID-COM field on Odin will turn yellow.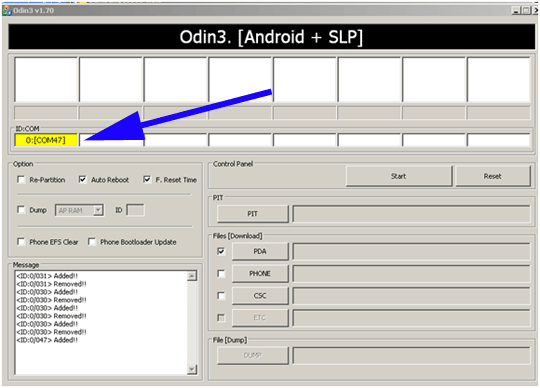 20. Click the check box next to PDA, then click the PDA button.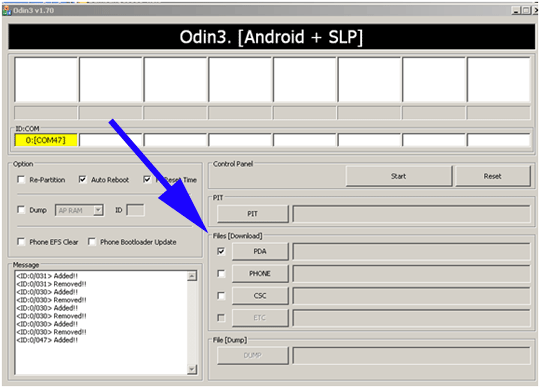 21. A window will open, select Ultimate-SG@-4.0.3GCI-031012-1.1.tar.md5 file.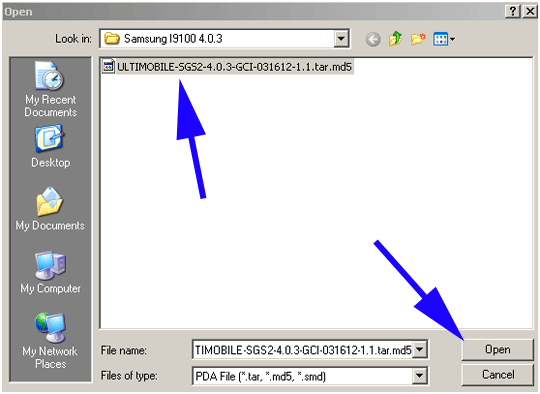 22. Click Open.
23. Your Odin application should resemble the screen below.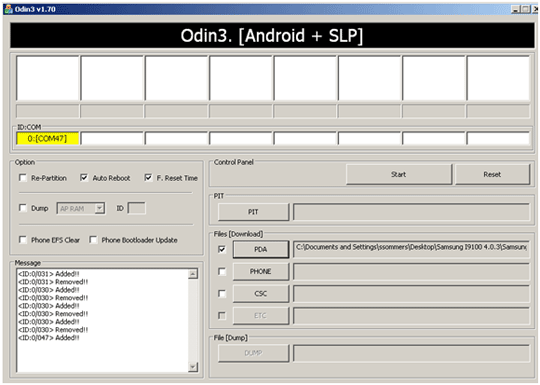 25. Click Start to begin. This process will take approximately 4 ~7 minutes. The phone will go  into Android system recovery mode.
IMPORTANT: DO NOT unplug the phone during this process to avoid irreversible damage to your Galaxy SII.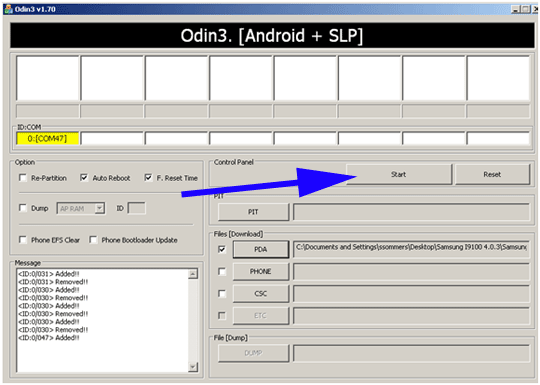 26.  You will see a series of screens, no action is needed during these screens.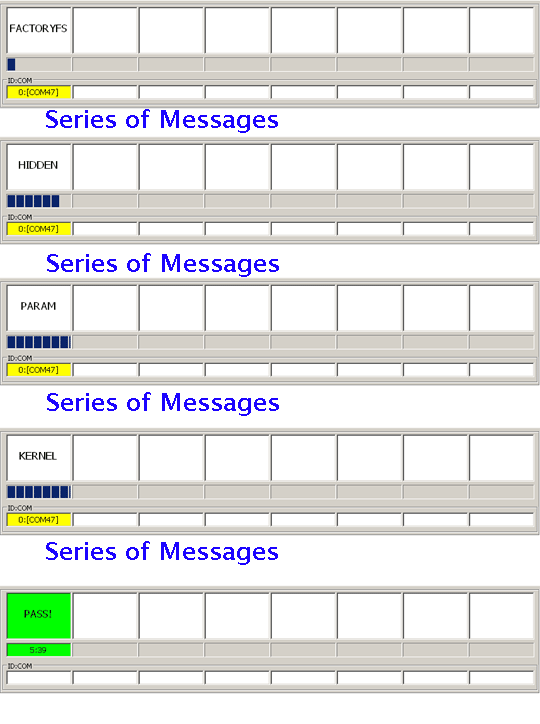 27. After the application displays Pass, the phone will do a quick restart.
28. Press the Volume Key to highlight the Wipe Data/Factory Reset line, then press  the Power key, device will reboot.
29. Let the device completely go through the start up steps, then you may disconnect the from the USB cable.
30. You are finished and your phone is upgraded to the new Operating System. You will notice changes with the new OS.
31. GCI recommends you uninstall Kies and delete the folder on your computer with the upgrade file and downloader.
 Related Articles
Adding GCI.net Email to Samsung Galaxy SII