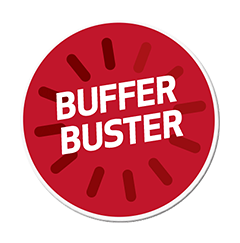 Let's face it—unlimited Internet at slow speeds just means unlimited buffering. While you're sitting there waiting for your downloads from your other Internet service provider, let us give you something to ponder.
Make the switch and try us risk-free.
Sign up for GCI Internet today and not only will we give you one month free, we'll also apply $100 toward your new GCI Internet service.
Don't settle for unlimited buffering.
GCI offers the fastest, most reliable Internet in Alaska—12× the speed of Alaska Communications, and for virtually the same price. See how GCI's speed measures up to the other guys.
Example: Anchorage GCI vs ACS
$4999 vs. $4900
12Mbps vs. 320Kbps
GCI is 12× faster
Virtually the same price
Example: Mat-SuGCI vs MTA
$4999 vs. $5000
12Mbps vs. 2Mbps
GCI is 6× faster
Virtually the same price
Example: Ketchikan GCI vs KPU
$3999 vs. $4995
10Mbps vs. 1Mbps
GCI is 10× faster
GCI is $10 less
Say no to buffering! Call 800-800-4800 to make the switch today!
Check out your Buffer Buster options »
The comparative speeds represent download speeds only. Prices do not include taxes, surcharges or fees. Presented GCI prices requires wireless or cable TV and home phone service with a two year term agreement. Services not available in all areas.
ACS prices from www.alaskacommunications.com/Personal/Home-Internet.aspx on 8/8/13.
MTA prices from mat-telco.com/internet/packages/residential on 8/7/13.
KPU prices from www.city.ketchikan.ak.us/public_utilities/kpunet/rates_premium.html on 8/1/13.